It's always nice to have a quick snack to grab when you feel a little hungry. I like to keep a variety of cheeses and meats in the refrigerator for quick bites. Sometimes, I am craving something a little sweet. While browsing some coconut recipes, I found a no bake cookie recipe. The original recipe used real maple syrup which is really high in carbs so I used some Walden Farms no calorie maple flavored syrup instead which is sweetened with Splenda and has zero carbs.
After receiving a comment about baking these cookies, I figured I'd give it a try. Turns out they are just as good or better after baking in a 400 degree F oven. You can eat them either way, but I prefer them baked to toast the coconut. Thanks for the comment Brenda!
BAKE OR "NO BAKE" MAPLE COCONUT COOKIES
Author: Lisa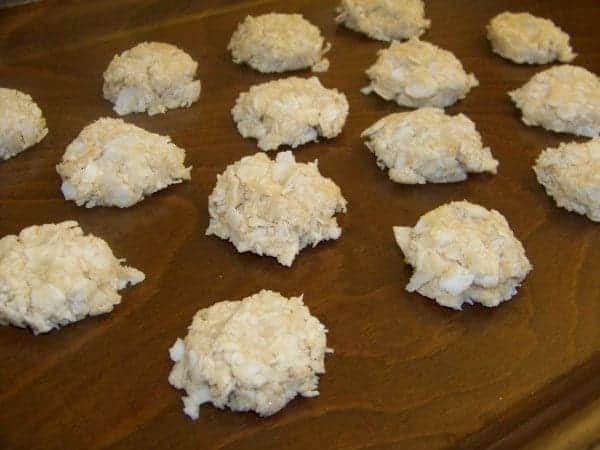 No time to bake? These low carb and gluten free maple coconut cookies can be baked or left unbaked. Made with healthy almond flour and coconut oil.
INGREDIENTS
3 cups unsweeetened flaked coconut
1 ½ cups almond flour
3/4 cup Walden Farms pancake syrup
1/3 cup coconut oil, melted
1 tablespoon sugar-free vanilla extract
1/2 teaspoon salt
INSTRUCTIONS
Stir together all ingredients until well blended.
Drop by tablespoon sized mounds onto parchment paper lined sheets.
Refrigerate until firm.
Store covered in the refrigerator or freezer.
If you like crisp cookies, they can be put on a cookie sheet and baked in a 400 degree F oven 5-10 minutes until browned.
NOTES
Makes about 44 cookies
Net Carbs per cookie: 1 g